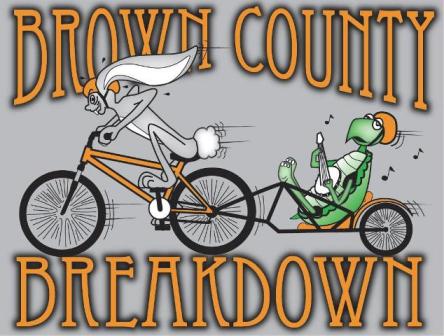 GENERAL ONLINE REGISTRATION
August 1 thru September 25
online registration closes at NOON
Cost is $125
ONSITE REGISTRATION
September 27 thru September 29
Cost is $150
YOUTH REGISTRATION
Includes event camping, t-shirt and hog roast
Ages 17 and under participating in Sunday ride.
Youth riders must be accompanied by an adult.
Cost is $65 online or onsite
YOU MUST REGISTER BEFORE SEPT 19 IN ORDER TO GUARANTEE RECEIVING AN EVENT T-SHIRT.
2013 Musical Line-up Featuring
Derick Howard
White Lightning Boys
New Old Calvary
Chicago Farmer
Eric Lambert and Friends
Rumpke Mountain Boys
Stuttering Ducks
Whipstitch Sallies
and more!
The 9th Annual Brown County Breakdown will take place on Sunday, September 29, 2013 at the IMBA Epic Brown County State Park in beautiful Nashville, Indiana. Join us for an entire weekend of live bluegrass music, epic mountain biking, free bike and product demos and much, much more.
Go to
http://www.browncountybreakdown.com
for all the info and a link to register for the 9th annual event!
More info about the Brown County trails can be found at
http://www.browncountymountainbiking.com
and
http://www.imba.com/epics/brown-county